The Horse-Racing Festival previously known as Glorious Goodwood (now unfortunately known as Qatar Goodwood) takes place every year around the end of July or beginning of August. It features five days of the best thoroughbreds and jockeys competing for some of the highest purses in horse-racing.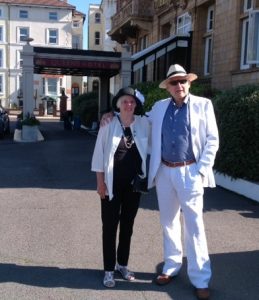 Dante, being the passionate horse-racing fan that he is, chose this year to go to Goodwood. I like the horses too and occasionally place a small bet. But I only enjoy going to the races if the weather is nice. We've been to Royal Ascot, where the queen makes an appearance in her horse-drawn carriage. We've been to Sandown in England, and Fairyhouse in Ireland for the Irish National Championship.
People get dressed up for these festivals and the men must wear jackets and ties unless they want to sit with the riff-raff (which we did, not because of the dress code but because of the price of the tickets). The women get all gussied up and there are contests and prizes for the best ladies hat. In the past, I have never bothered getting spruced up but this year I made an effort with the help of my friend, Dona, a fashion guru, who re-configured a hat and lent me some jewelry and Dante brought his white suit and Panama hat (see photo above).
We were traveling with Dante's friend, Alessandro, who had made most of the arrangements. He booked the flights, buses, hotel and even admission to the track. Since these task usually fall to me, I was happy to just tag along and show up at the appropriate time. One thing I found amusing was that Alessandro told us to meet him at the Florence airport at noon. Our flight was to leave at 2 PM and Dante was complaining it was too early to be there at noon. He thought that I was the only one who insisted on being at the airport 2 hours before flight time.  It has been a bone of contention with us since we met. I'm always early and he's always late. Of course we were 45 minutes late anyway because, once again, we couldn't find the parking lot where we had made a reservation. It didn't matter because the plane was an hour and a half late taking off.
Alessandro had made reservations for us at the Queens Hotel in Portsmouth. Quite a lovely spot right on the south coast of England. The hotel was built in 1903 in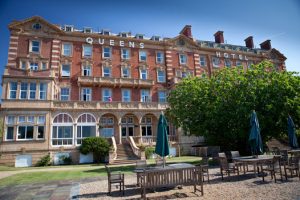 the Edwardian style. Its past guests have included Winston Churchill, Dwight D. Eisenhower and Charles De Gaulle. They probably wouldn't be staying there now as it is in need of some refurbishing. So, that's why we could afford to stay there. The hotel changed ownership in April of the year and is undergoing some needed updating. Nonetheless, our stay was very nice.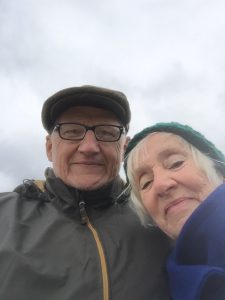 We left 100+ degree weather in Italy and landed in London where it was 60 degrees and raining. The first thing we did the next morning before leaving for the races was to buy wind-breaker jackets. There was no way we were going to the races in our lovely outfits! (See photo left) Just kidding! This photo was taken at the Cliffs of Mohair in Ireland. It wasn't that cold for the races, but it wasn't warm either. So off to the races in our wind-breakers. The photo you see in our elegant dress was taken the day we left, which turned out to be the best day weather-wise.
A cab to the train station, a half hour train ride and we arrived in Chichester, where the Glorious Goodwood races take place. At the Chichester train station, we were met by Carlo Zuccoli, who is a friend of Dante's. He is the Italian television commentator for English and Irish Horseracing and also writes for an Italian newspaper. He has an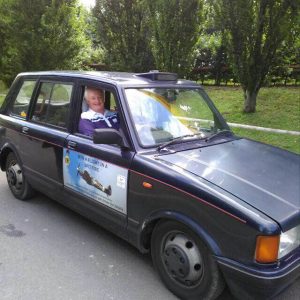 arrangement with a taxi driver to pick him up and take him back to the train station for every day of the festival, and he offered to take us with him. Really a wonderful thing because there were long lines for taxis and buses going to the track. And it was fantastic because we were riding in the oldest taxi in England! And Brian, the taxi driver, was right up there with the taxi! It was great fun.
We had dinner the first night in the hotel dining room. Not exactly what you'd expect from a four-star hotel. It was pretty disappointing. Also, I prefer to go outside the hotel to have dinner and to see a bit of the town. So Dante, who is a fan of Trip Adviser, made a search for restaurants in Portsmouth. We found Massimo's..sounded good. Italian food, of course. It was possible to make the reservation on line and Dante did that for 8:30 that evening.
The hotel was situated quite close to downtown so cab fares were only between 4-5 pounds. We had the desk clerk call a taxi and it arrived in about 5 minutes. I did most of the talking because Dante isn't confident in speaking English. Naturally, most of the cab drivers being African or Afghan weren't either. But I was able to give him the name of the restaurant and the address, which was 59 Penhallow Street.
The driver said he knew Penhallow Street but that there were no restaurants there. It was completely residential. Out came the cell phones. Both Dante and the taxi driver frantically searching for Penhallow Street. The driver found Penhallow Road but said it was about 15 miles away. We were perplexed so we asked if he could look up Massimo Restaurant. And he found it! He looked at the bottom of the page and saw the address…then he saw the telephone number and he asked if the 01 country code was in America. Of course!! We had made a reservation for Massimo's Restaurant in Portsmouth NH!! The funny thing is that Portsmouth in England is in Hampshire County and Penhallow Street (or Road) is found in both places. We asked the cab driver to take us downtown where we could just walk around and hopefully find a good restaurant. He brought us to the waterfront where there were many shops and restaurants. We ended up in a pub and had fish and chips as usual!
The day after we returned home, Dante got an email saying that Massimo's Restaurant missed seeing us the other night!